The folks over at NSMB.com do not do your typical reviews. Every once and awhile they like to tear things up (or down depending on how you look at it) by doing an in depth review that involves, quite literally, picking a product apart. Andrew Major and his buddy Jeff grabbed a few beers and took a part our Bachelor Dropper Post. Read on to hear their thoughts:
Cartridge Notes
Jeff and I tore this PNW Bachelor post down to its individual components. That includes stripping down the fully serviceable cartridge. We wanted to show the quality of the guts and assembly and heck, sometimes you just want to drink a beer and set the world on fire.

But, when it comes to their three-year warranty the folks at PNW Components don't screw around. So while said cartridge is fully rebuildable, they'd like me to note that if a rider should happen to have a problem with their cartridge within that three year warranty period they replace it right away - no faffing about.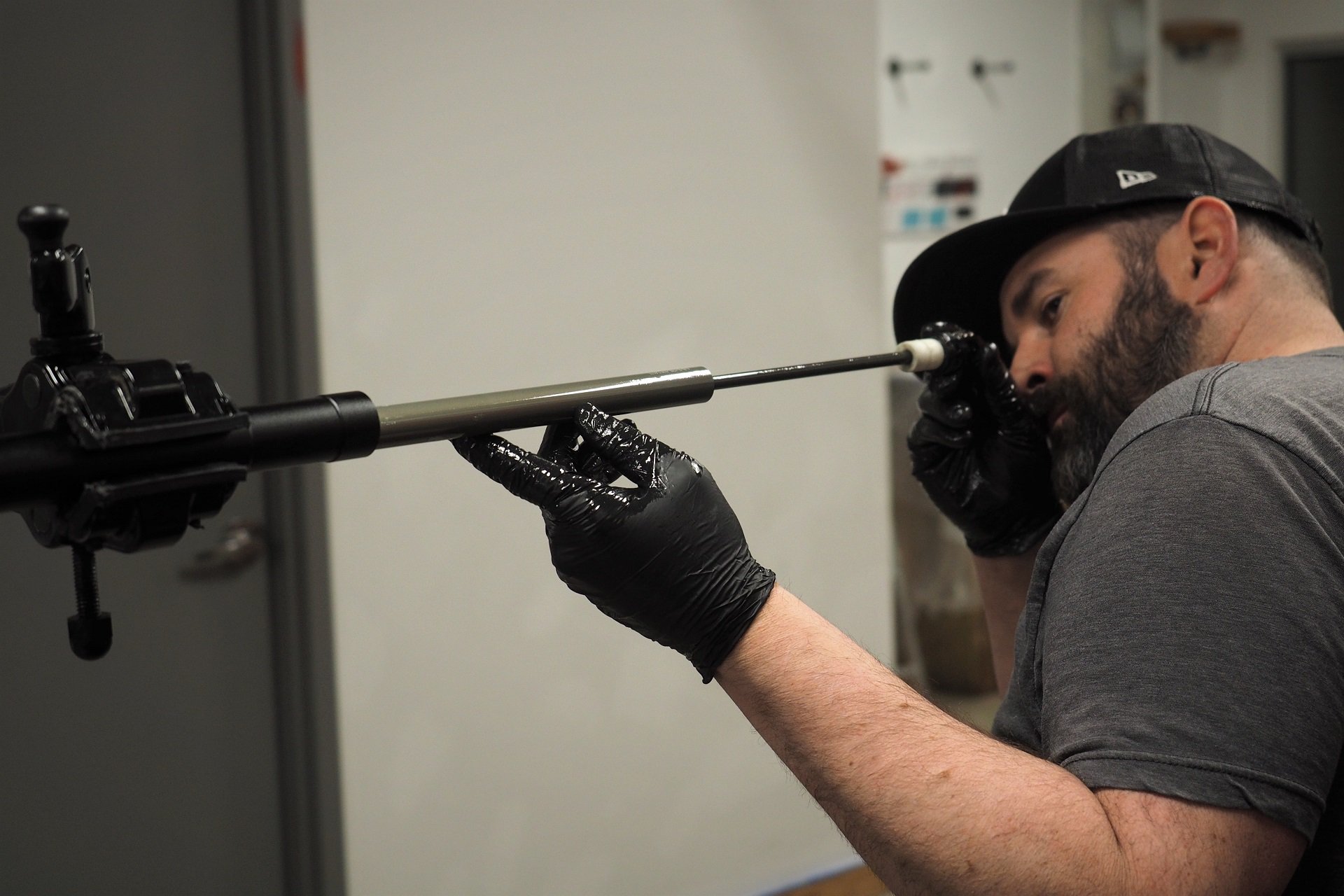 In theory that's having my beer and drinking it too. It's pretty fast and really smooth, and if it isn't problem-free I'm covered for as long as anything on the market. Outside of the warranty period, I can purchase a new cartridge or I can rebuild it for the cost of labour, a bit of oil and a couple high-quality, low friction seals. PNW's goal is zero cartridge failures within the warranty period. and in addition to adding 170mm travel and 34.9 diameter options to the Bachelor, there are a few other upgrades over the previous generation.
Bachelor Post
A lot of the PNW posts are coil-sprung to balance performance, simplicity, longevity for around 200 USD. Reviews are good and with various size, travel, and fitment options there really is an option for everyone. The updated Bachelor is an entirely different animal. It uses a higher end 7075 aluminum for the shaft and body with a larger, stiffer, and lighter 26mm stanchion, it has a sealed and fully serviceable and adjustable air-oil damper cartridge, a big DU bushing to resist saddle play, and it generally has a more polished appearance. It also comes stock with the excellent Loam Lever remote.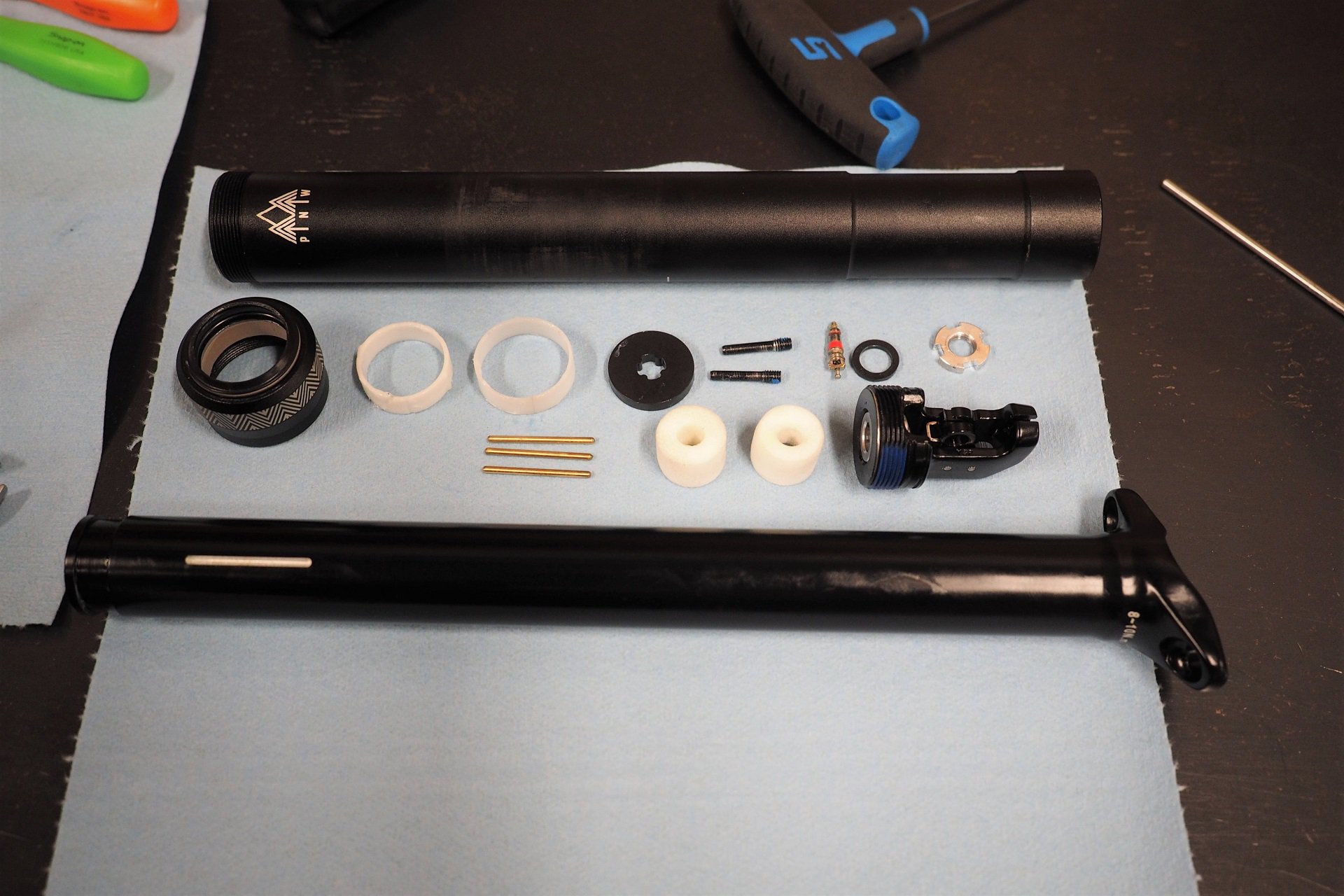 The post comes apart with relative ease. A service which involves cleaning and re-lubing the body, keyways, and seal head is maybe a one beer job for anyone with reasonable wrenching faculties. Servicing the cartridge is a much trickier job. For someone with Jeff's experience, the full teardown is a two beer job. The IFP (internal floating piston) is an impressively tight fit, especially considering how smoothly it glides thanks to the high-quality low friction seals, so it was a bit of a job to get everything back together and the IFP set to its pre-recorded depth. 
The post is both a solid package and simple to disassemble. I like how tightly the keyways fit in their seats in the shaft and interface with their channels in the body. 
The post arrived well lubed except for the bushing and seal in the seal head. This is by design and these parts will get lubricated on the first ride when the post is engaged. Early PNW posts came with a healthy amount of grease under the seal head but that led to a perception from some customers that the seals were bad out of the box. 
After a couple of cycles, everything feels smooth and well lubricated but serial parts killers may appreciate the peace of mind of popping up the seal head and plugging in some Slickoleum. The excess will purge for a ride or two (just wipe it away) but for the 30-secs it will take it's nice knowing 100% that everything is lubed.  
PNW People
Dropper posts, especially aftermarket dropper posts, are a hard game. Most performance bikes come with a good dropper post now, or at least good enough to keep folks from looking to swap them until they have a handful of warranty issues or see the bill for a yearly service. 

There's also, as I'll discuss below, little incentive to look beyond one of the handful of Wintek options (Crankbrothers, X-Fusion, FSA, Bontrager, etc) that Jeff and I have taken apart previously. Not that they're necessarily the end-all-be-all but they're easy to service, reliable, cheap to fix, and short-enough, fast-enough, and light-enough for most riders to pick one up and be happy with it.
It's an understatement to say the people at PNW are active on social media. They're online hustlers and I don't know that you can be a mountain biker with a social media account and miss their advertisements. But they're also relying on a strong word-of-mouth message driven by fantastic customer service. 

A big part of that, from what I can see, is an old-school bike shop model where the owners are customer-facing and their employees play a supporting role. If you call or e-mail PNW, chances are you'll hear back from Aaron or Emily in short order and that means you're dealing with people who have skin in the game.  
They have their ear to the ground producing a range of unique posts including fixed-external-routing options up to 170mm travel and both internal and external 27.2 post options. A one-stop shop for anyone who doesn't have a bike with Stealth routing or for shorter riders trying to ditch the Stealth actuator on their post to squeeze a bit more dropper travel into their frame. 
The updated Bachelor is PNW's highest end dropper post. Aaron's not shy about how proud he is of the product but the big takeaway from talking to him about this teardown is their basic customer service philosophy; "that's what I would expect to be done for me so I'm offering it to our customers."
Read the rest of the article and check out there photo documentation of the whole process here...
---